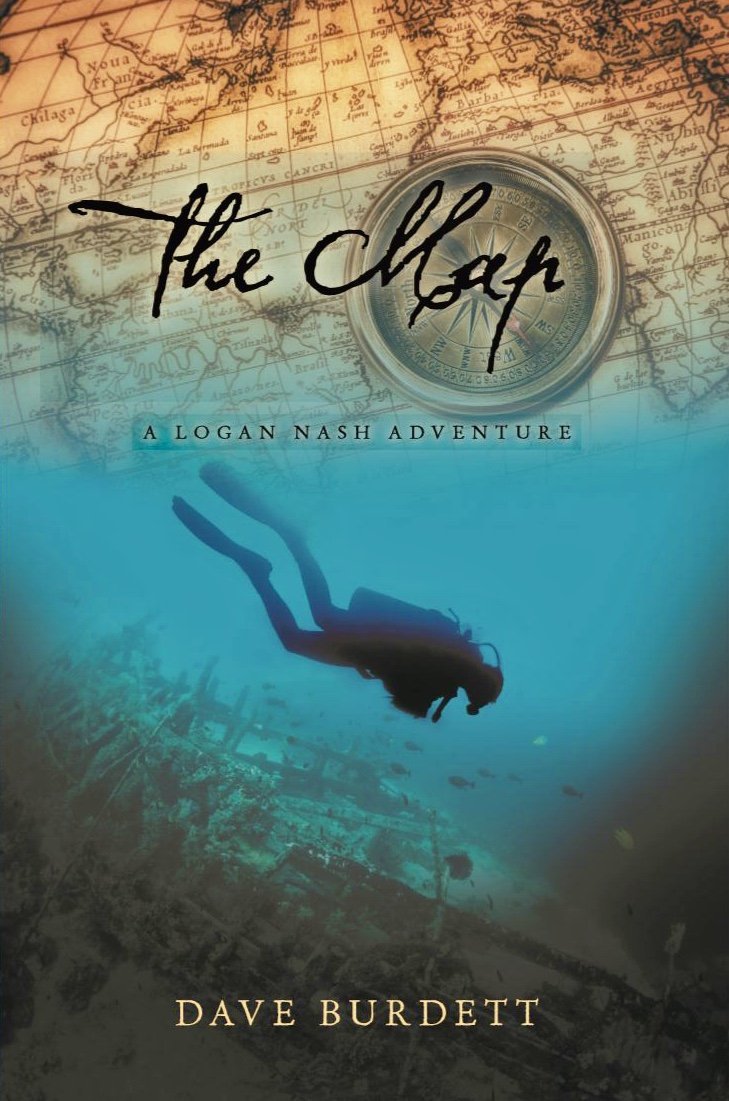 The Map, A Logan Nash Adventure

The Map
A Logan Nash Adventure
by Dave Burdett

NEWS!
THE MAP Second Edition Release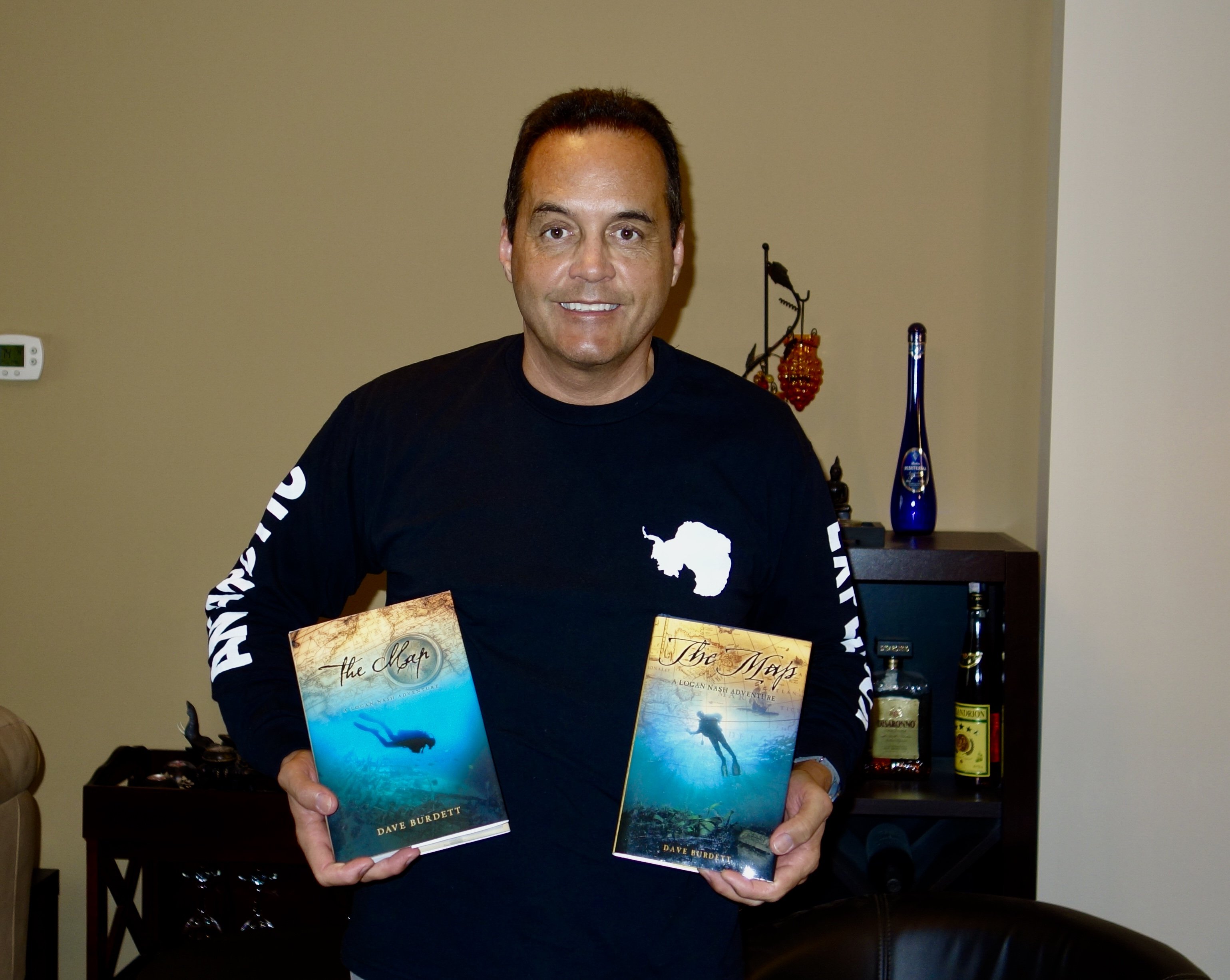 First(Right Side) & Second(Left Side) Editions of The Map
Just a quick news flash to let you know I've just released the Second Edition of my first novel, The Map, A Logan Nash Adventure through my new publisher, Friesen Press. I seems to be uploading quite quickly to the online retailers, but if you want to make sure you get the second edition, look for the diver diving downward.
I'm excited to be making good progress on my second Logan Nash Adventure, as well as I'm keeping busy working on a project in a completely different genre ...stay tuned!
Highlight as an Author
I just returned to Bangkok today after an amazing trip to Myanmar(Burma) ...as always I headed straight for Khao San Road. To any of you who have traveled SE Asia you know that Khao San Road is the center of the backpacking universe ...a mix of people like you'll experience nowhere else in the world. As I was heading down the street to one of my old haunts I caught something out of the corner of my eye that made me stop in my tracks ...there were two girls having a beer at one of the many outdoor restaurants that line Khao San Road, one was writing in her journal while the other was reading a book ...not just any book ...The Map ...I was shocked, I couldn't believe my eyes. I had to walk over and talk to her...
"Sorry to interrupt you, but I couldn't help notice the book you're reading" ...before I could finish what I was going to say she replied.
"Yeah, it's a great book ...why, have you read it?"
With a little chuckle I replied. "Yes, several times ...I'm the author, and I was a just bit surprised to see someone with my book all the way over here in Asia."
Flipping the book over she squealed. "Oh my God, look Cath(her friend), it is the author"
They invited me to sit down and we enjoyed a round of Chang beer while she proceeded to tell me how she had traded books with another traveler in Koh Phi Phi, who also loved the book. She said she had planned on trading it again, but instead she had me autograph it and said she would keep it, and of course had a photo of her holding her book with the author.
I have had a very successful book signing ...I have had The Map reach number one in its category on Amazon, but this was truly my proudest moment yet as an author ...I can't even explain the rush I felt when I saw someone sitting 12,000 KM's from home with my book, and that fellow travelers were enjoying my book and telling other travelers about it ...it's been a great day!


Surrey International Writer's Conference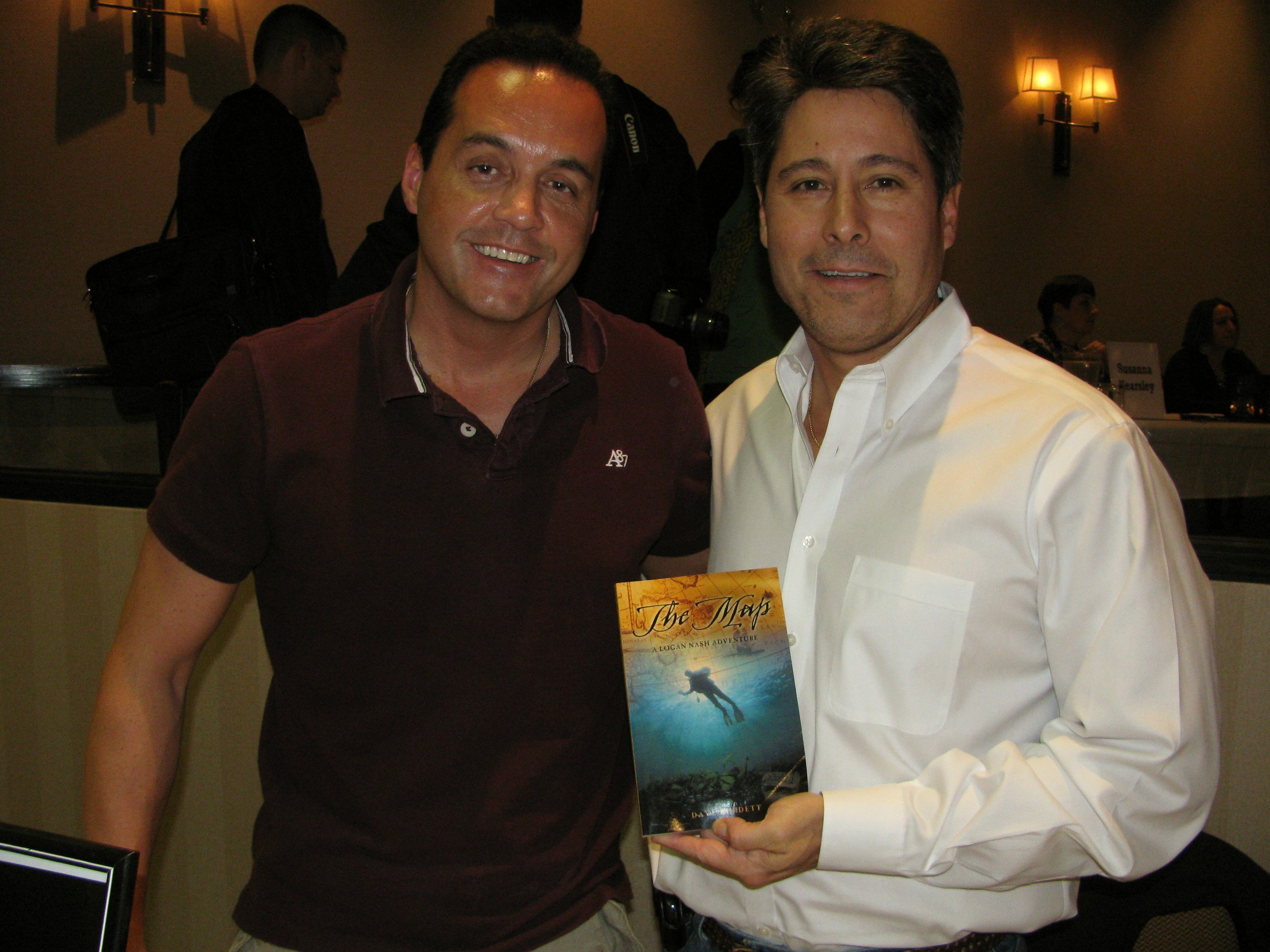 Robert Dugoni with his new copy of The Map
A few weeks ago I attended the Surrey International Writers' Conference. It was inspiring to be around so many accomplished authors, editors, publishers, as well as many aspiring authors and avid readers.
At the book signing event I was extremely fortunate to have at the table beside me NY Times bestselling author Robert Dugoni ( http://www.robertdugoni.com ). Not only was Robert very down to earth and friendly, but he also took the time to talk with me about ways to further my career as a writer and tips on marketing ...that is when there was a break in his stream of fans that lined up for his autograph! The location was great because it also brought a few extra people my way as well. All in all I had a fantastic time and found it to be an invaluable learning experience as well as very inspiring.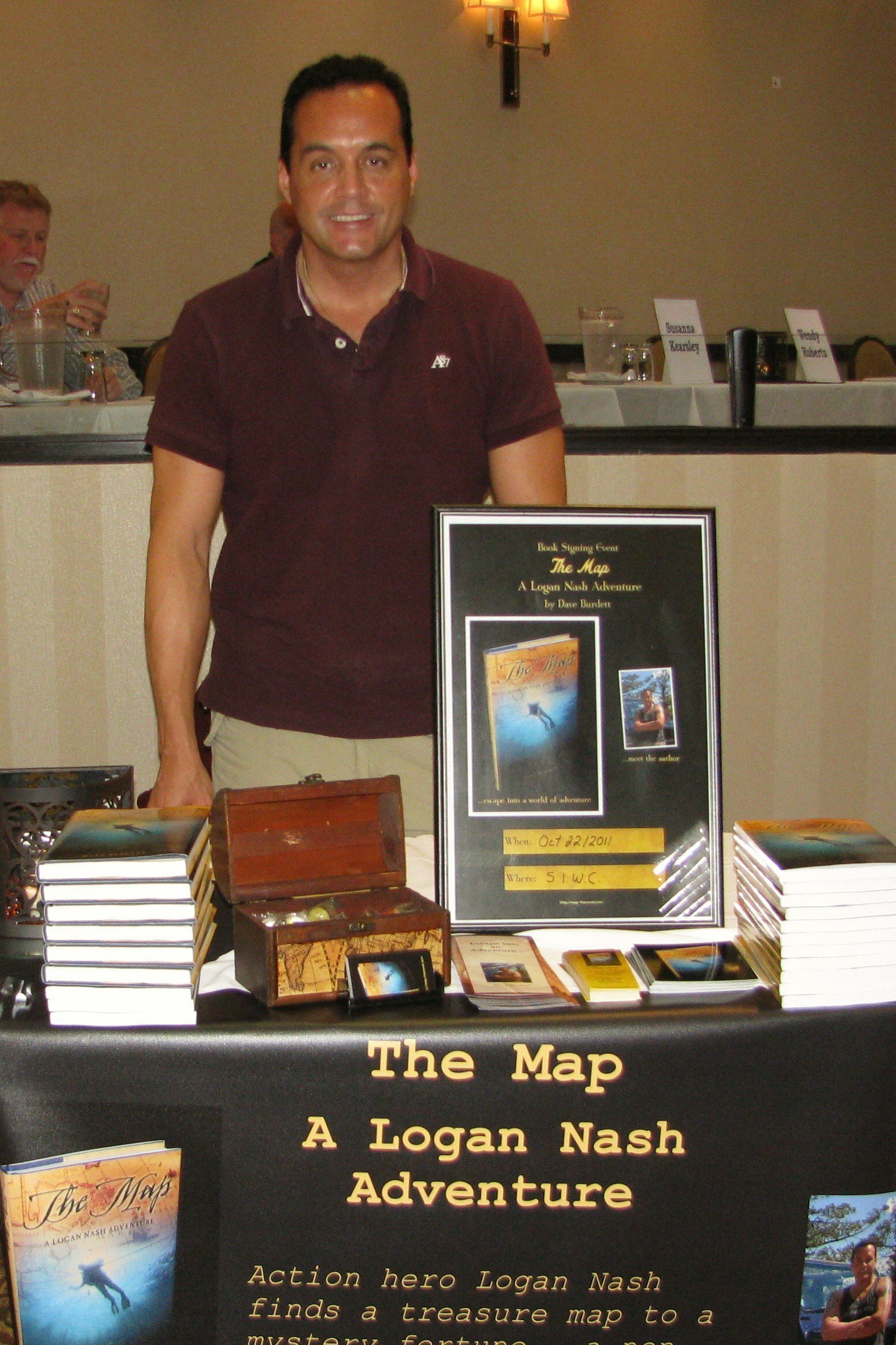 THE MAP reaches #1 on Amazon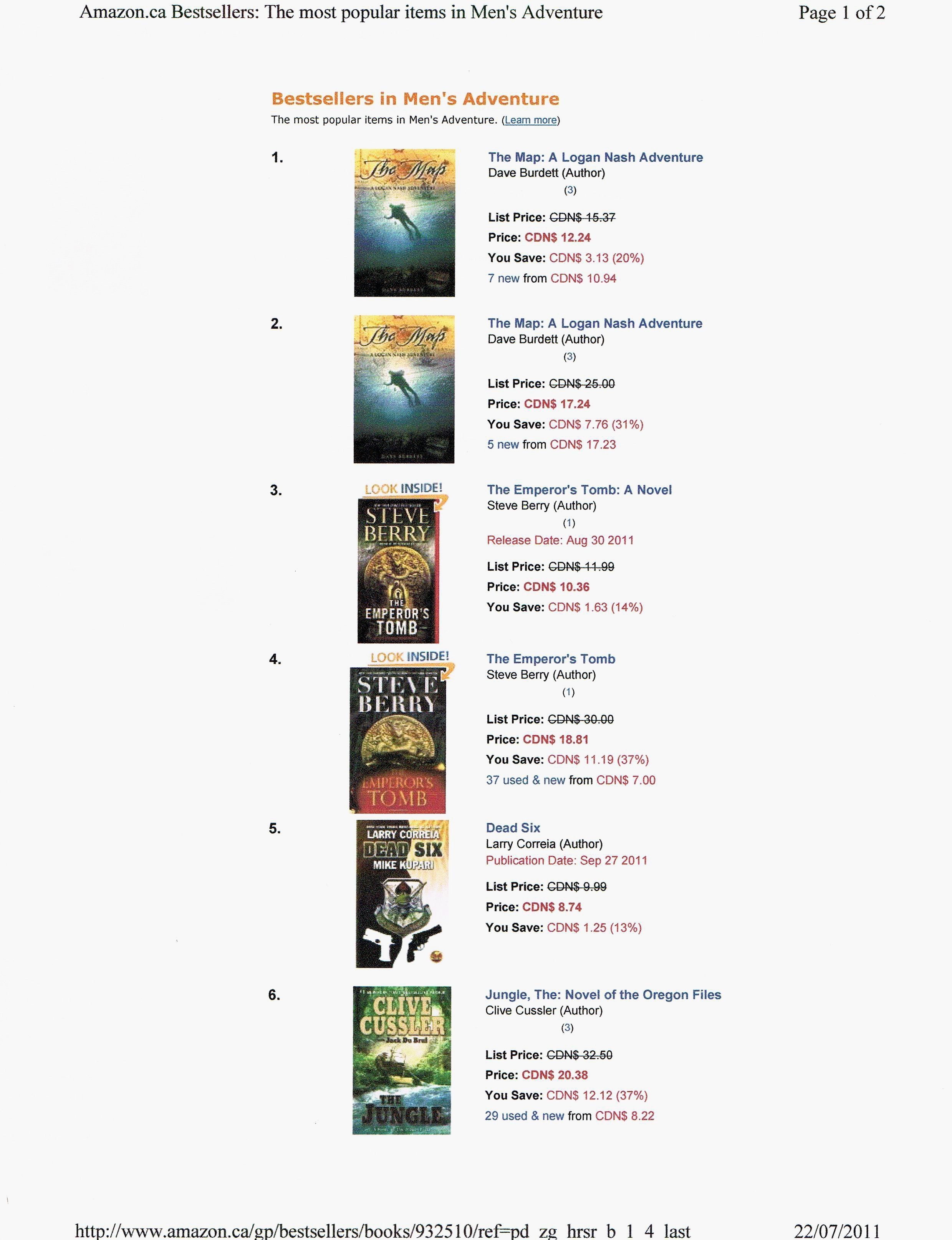 THE MAP #1, Paperback & Hardcover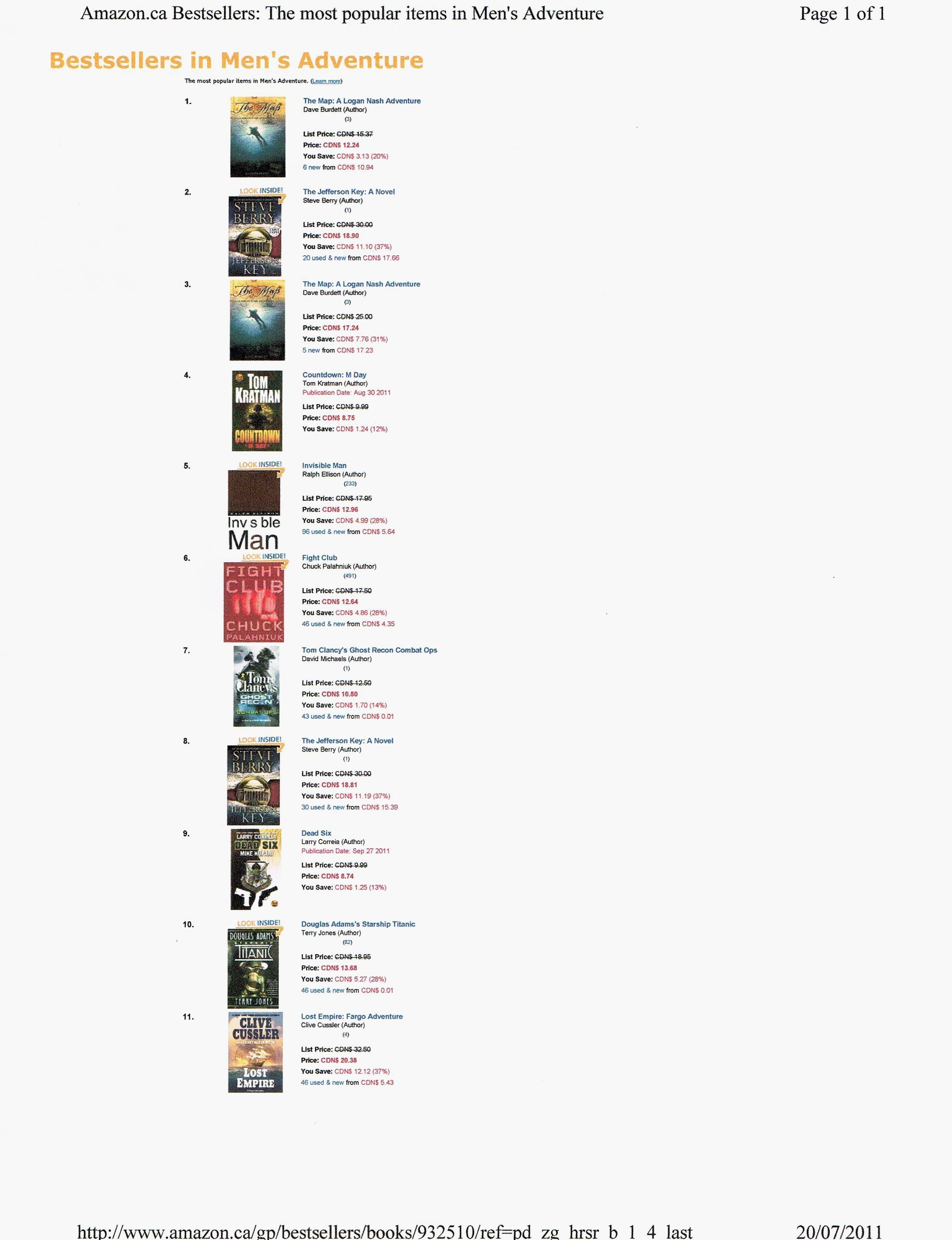 THE MAP with some good company!
Tom Clancey...Clive Cussler...Steve Berry...
The last few days have been very exciting for me. As a new author I never thought my book would be ranked near as high as it is on Amazon. Four days and counting, The Map, A Logan Nash Adventure has been ranked Number One on amazon.ca in the "Bestsellers in Men's Adventure" category, and fairly high in some much broader categories as well. The biggest shocker came yesterday when the paperback version of The Map was ranked Number One, and the hardcover version (considered a separate title), was ranked Number Two.
UPDATE!
A few months ago my first novel, The Map, A Logan Nash Adventure reached #1 on amazon.ca in the Men's Adventure category. Since that time it has reached #1 on a total of 16 days in the Men's Adventure category, and has been in the Top 50 for several months, as well as spending 31 days in the Top 100 of the much broader category of Mystery & Thrillers(almost a quarter million books in this category). It has also reached new heights in several other categories.

Listed below are the highest rankings that "The Map, A Logan Nash Adventure" has received so far.

Mens Adventure: #1 out of 5,434
Action/Adventure: #2 out of 64,014
Mystery & Thrillers: #8 out of 232,107
All Books: #229 out of 17,101,607

It definitely inspires me to complete my next book!
Successful Book Signing at Chapters Kelowna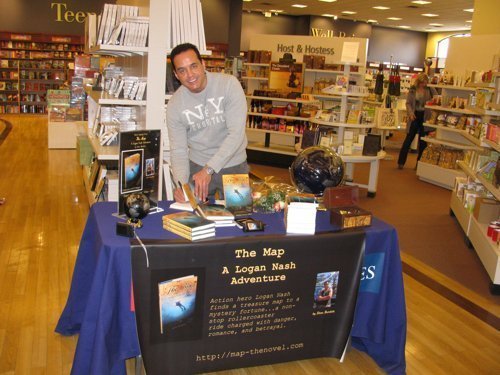 Thank you to everyone that attended my first book signing.....it was a huge success. The management of Chapters were also very impressed, and said they would love to have me back in a couple of months to do another book signing, as well as when my next novel comes out in the fall. The manager said if he graded book signings, I would definitely get an "A". Before the actual event I did a lot of reading on what it takes to have a successful book signing, and although everyone's ideas differ somewhat, one thing that was universally agreed upon was that you don't just sit behind a table, but you get out there and talk to people.....show some enthusiasm!! Sometimes little things can help make a difference too....eye catching props.....a dish of candies, or in my case, a treasure chest of candies. I know this is only one step on a long journey to a career as a writer, but it's one I will savor for now with a nice glass of wine. Unfortunately the downtime will be short..... I plan to release my second novel, "2012: Mayan Cenote" at the Surrey Book Fair (Western Canada's largest book fair) in October, where they have already a table booked for me. I'm really looking forward to this event, not only for all the exposure it will bring, but that it takes place in metro Vancouver, a place I called home for many years. The world of a writer is often a world of solitude, and days like this are the days that energize and inspire me.....thank you!
Now Available in Chapters Kelowna...
(SOLD OUT!)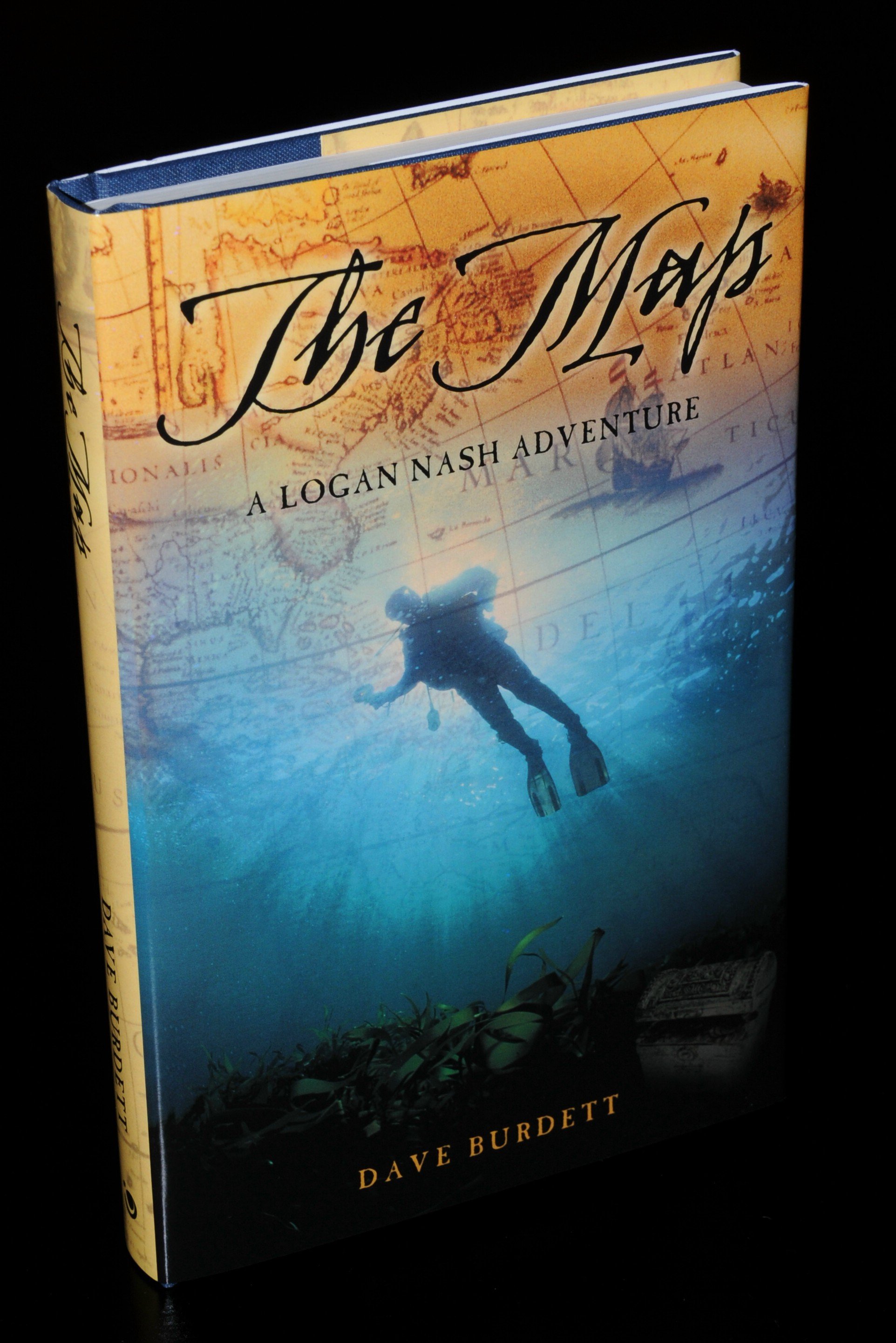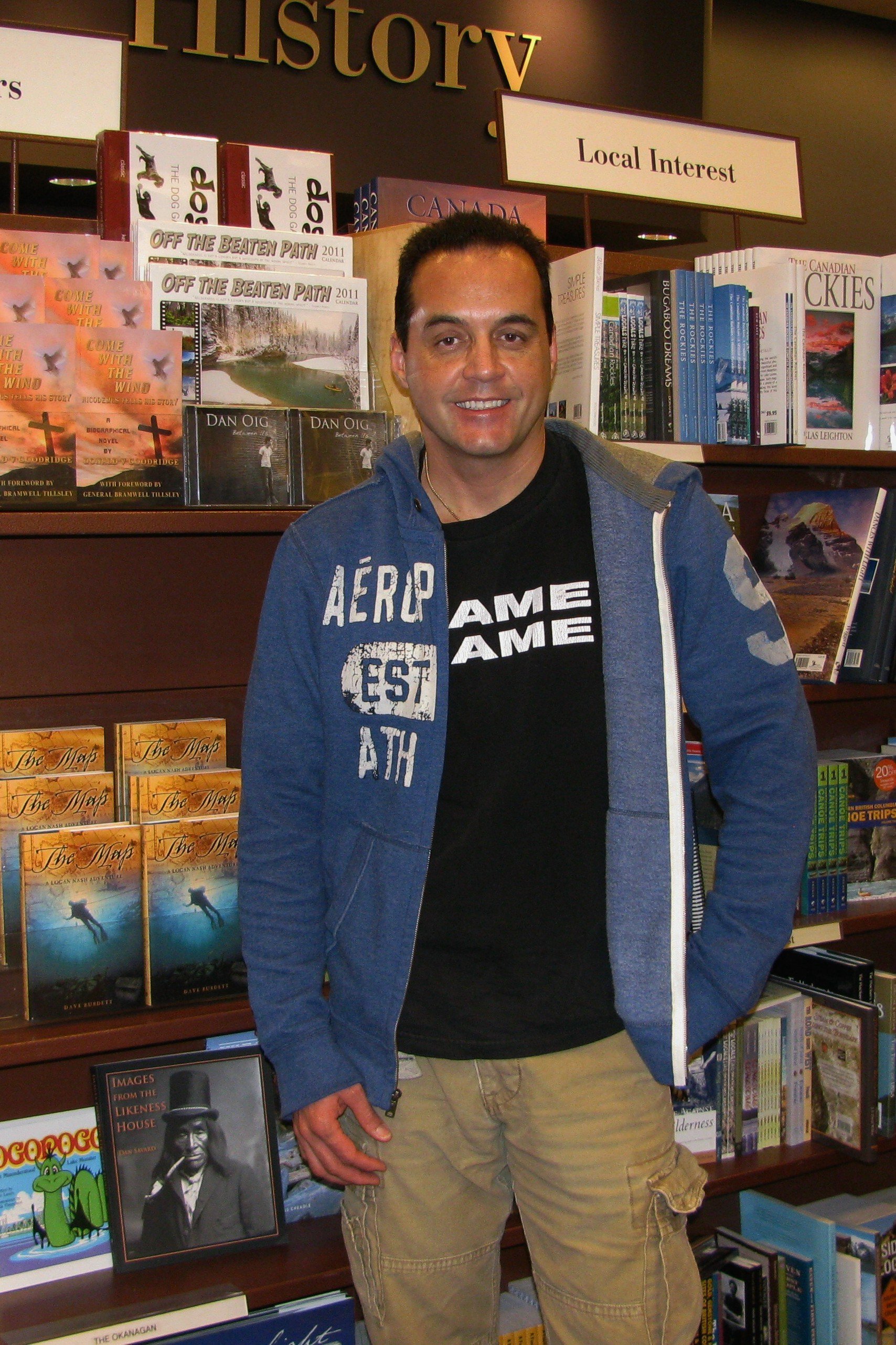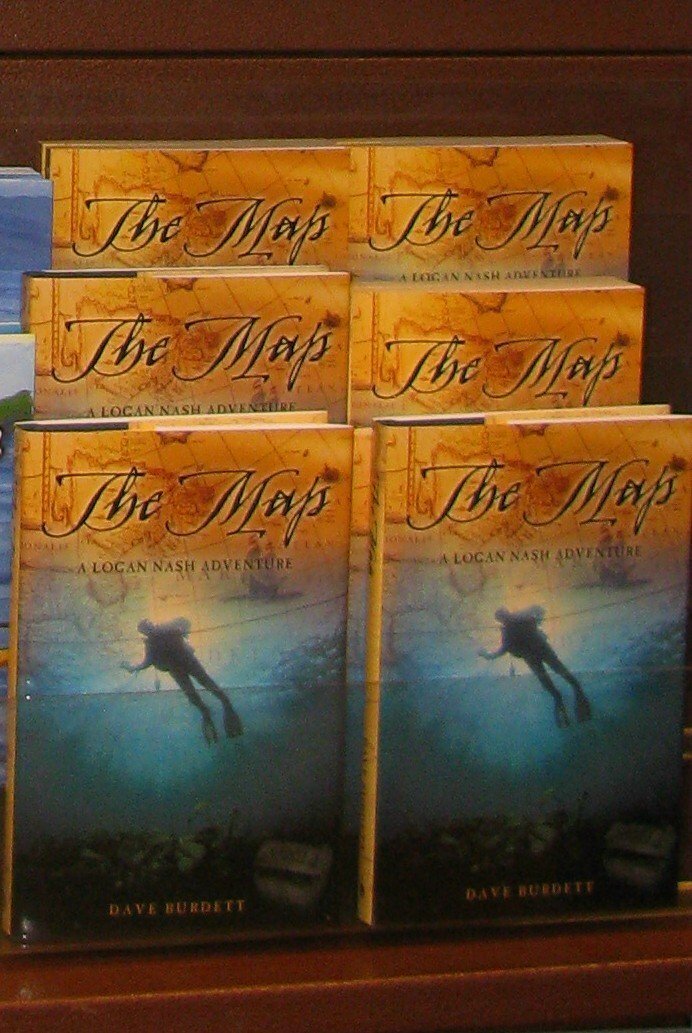 Follow Dave's Travel Blog Wanderlust Dave...
ORDER NOW!
Home|| About The Author|| Coming Soon!
NEWS!|| Contact Us||Photo Gallery
Logan Nash Home Page
ORDER NOW!
Site Map
reliablecounter.com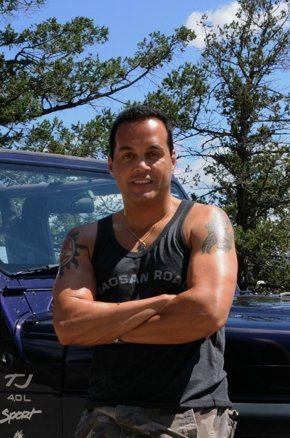 Dave Burdett